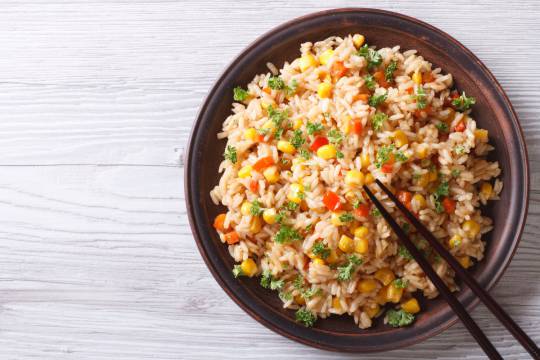 Make Vegetarian Fried Rice Like the Professionals
Thanks to Lily Li you can try a Chinese take-out favorite, fried rice. It's definitely a "try this at home!" dish. Versatile and diverse, fried rice works as a main dish or side, it cooks up in a flash, and it lends itself to improvisation.
These simple ingredients deliver a delicate balance of flavor and texture, which appeals to almost every palate.
Ingredients
150g Rice (overnight refridgerated cooked white rice)
2 eggs
2 sprigs spring onion (chopped into small rings)
50g frozen vegie mix
10g Soy Sauce
Method
Heat decent amount of oil in the pan, mix the eggs and stir-fry until cooked, take it out and leave it aside. *try leave the oil in the pan.
Stir-fry the rice in the same pan in high heat, break up the rice with the spactula, put the vegies mix in and add small amount of oil around the pan and stir-fry for 2-3 min.
Add egg and soy sauce and stir-fry another 1 min. *taste for savoury, adjust soy sauce to your liking.
Add spring onion for a quick toss around for 10 second.